The Salkantay Trek to Machu Picchu is one of the most beautiful places and therefore we will talk about the Salkantay trek 4 days and 3 nights, where I will teach you everything you need to know and bring.
One night before leaving for the Salkantay trek you should enlist your backpack or travel bag with the following items; trekking pants, blouses, thermal jackets essential for the cold, thick socks 3 pairs for the cold.
As for toiletries; wet wipes in case you need it, toothbrush, deodorant, moisturizer and the most important Passport because without it they do not let you access Machu Picchu and something else that I can recommend is to carry cash around 300 to 500 soles for expenses you have during the hike, as they do not receive or accept cards, and some snack to recompose the energy along the way, water at least 2 liters. It is very important to be ready to leave the next day, this is basically general information.
1. What should I bring for Salkantay Trek?
Essential:
Immigration card
Backpack (small)
Bottles of water
Hiking shoes (light for recommendation)
Passport
Student card (if you booked as a student)
Travel bag:
Absorbent shirts
Walking pants
Warm jacket preferably down jacket
Sun hat
Flashlight for personal use
Waterproof jacket
Garbage bag (for garbage)
Sleeping bag (preferably down sleeping bag)
Toiletries:
Repellents
Alcohol gel
Toilet paper
Personal medication
Sunscreen
The Salkantay Trek is one of the most popular treks in all of Peru. It lasts 4 days and 3 nights where it goes through the Andean mountains and the Andean jungle of about 75 kilometers of trekking.
The best time to do the Salkantay Trek is between April and November. As a result there are tour operators in the city of Cusco that perform this beautiful hike. Above all there are ways to make this tour, you can leave from 400 to 1000 dollars, depending on the service you chose in the operating agencies.
2. First day in Salkantay Trek
Soraypampa, Humantay Lake
You will leave Cusco at an average of 5 a.m. arriving at the pampa of Soraypampa, this is where you will start the trekking, heading to the Humantay Lagoon, walking for about 3 hours. The views are phenomenal and breathtaking, while all the equipment that travels with you prepares for this journey through the Salkantay Trek.
The hike has already started and it is quite heavy the first day because of the altitude, but I consider it to be calmer than 7 color mountain or Rainbow Mountain. The climb to the Humantay Lake is the training of the real route that you will be doing the next few days of trekking so you have to take it easy, slowly but surely.
When you arrive at this jewel, one of the most impressive and beautiful places you will literally be speechless, the place makes you feel that unique vibe. The Humantay Lagoon has different ways to get there, you can do it in one day or in several days of hiking.
You have to prepare yourself to come to these places, usually you should bring thermal jackets for the intense cold, trekking pants that are light, thick socks and more trekking boots.
The first day of camping will be in a spectacular place overlooking the snow-capped mountains of Salkantay, the remaining days, you will sleep in different camps with a team of muleteers and cooks who take care of your things and what you need.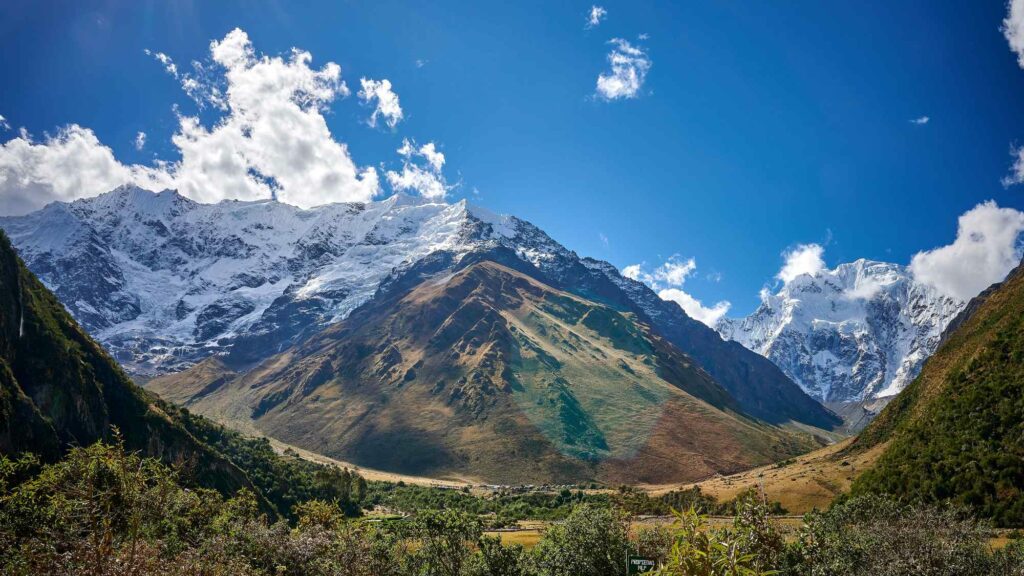 3. Second day in Salkantay Trek
Abra Salkantay 
Welcome to day 2 of the Salkantay trek, it is supposed to be the most challenging day of all, there are approximately 10 hours of walking in total 4 hours up and then 6 hours down and for being the heaviest some agencies give you the option to go on horseback which costs 40 dollars.
Arriving at the Salkantay gorge you will see the divine beauty of the Lord, at an altitude of 4900 meters above sea level, you are not cold because the sun at this time is incredible. Here you can spend a good time taking pictures or just enjoying the place.  You will descend to the second campsite along with all your travel team where you will have impressions of the place, where your team of cooks prepare a delicious dinner and rest for the next day.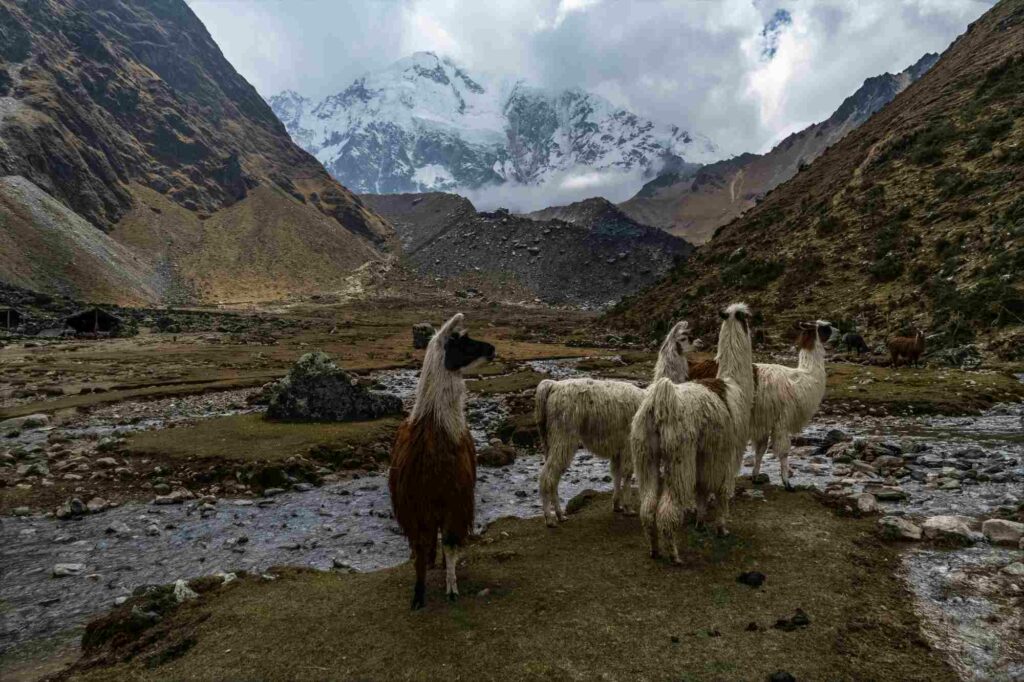 3. Third day Salkantay Trek
La playa Santa Teresa
Today will be a challenging day because you will walk 5 hours and then lunch and another 4 hours in total 9 hours of continuous walking, the ladies of the community will encourage you, the weather begins to change we enter the jungle, it is much warmer and hotter, you can go through the so-called beach where you will learn about the coffee and its process where you will have a tasting.
You will leave this beautiful place and walk 3 hours to Aguas Calientes which is the last town before reaching the famous Machu Picchu. After 2 days of early risings you will finally arrive the day to know one of the seven of the world Machu Picchu.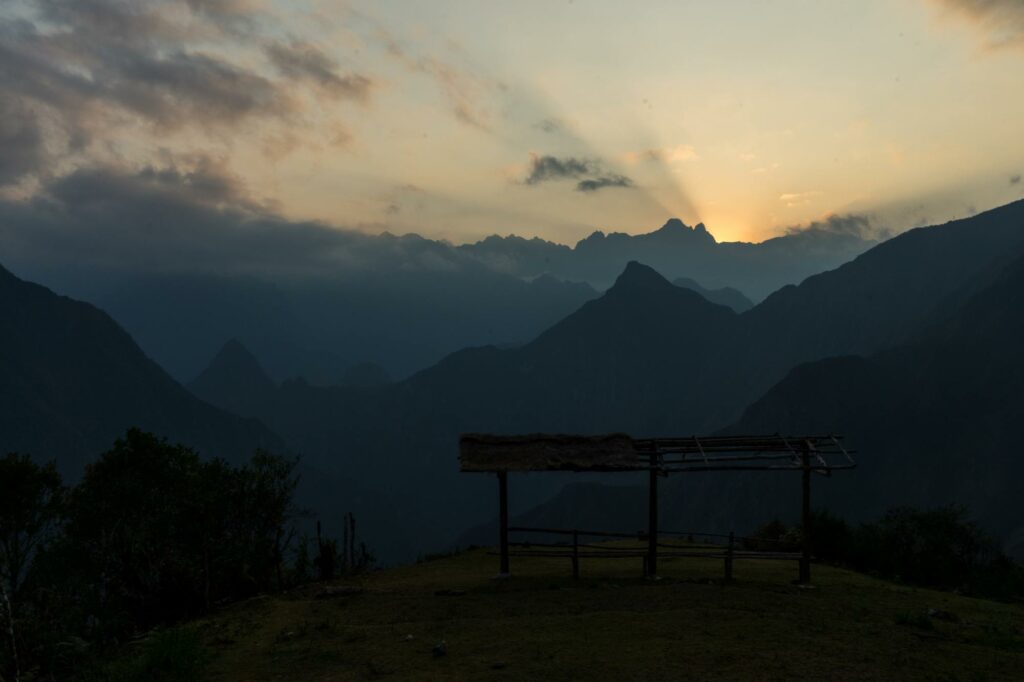 4. Fourth day in Machu Picchu
The last lost city of the incas
After 2 days of dawn finally came the day to know one of the seven of the world Machu Picchu. We take a bus from the town of Aguas Calientes, actually there are 2 ways to get to Machu Picchu you can continue walking which you do about 1 hour and a half to climb the stairs or you can go by bus for 12 dollars go up another 12 dollars go down it takes about 15 minutes.
I want to give you an important fact about the entrance tickets to Machu Picchu, due to the covid-19 therefore the entrance is limited, so I recommend you to buy in advance because if you arrive here and you want to buy them you will not find available spaces.
So many days of hiking, day 4 arrives and you come across this jewel in front of you and you are grateful for every step you took to get there and you realize that you are not only enjoying the destination but the whole way, every person who saw it with you, every laugh, every moment of stress, every moment of despair of believing that you could not get there, of despair of believing that you are not going to make it.
you thank every moment of it, above all you thank yourself for having challenged, for having overcome and for having discovered things that you did not know you were capable of doing and you find yourself with this wonder, the beautiful Machu Picchu. A unique spectacle.
This trail is full of a lot of vibes, a physical challenge, a mental challenge to finally reach this incredible destination that is Machu Picchu. However, I recommend you to be prepared because the physical challenge is strong, where you will be rewarded with breathtaking landscapes, mountains dressed in snow. Rivers.